Violet Tharp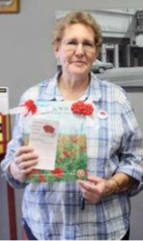 Violet is always on a mission for good in our community.  I met Violet while she was collecting donations for Veterans of Foreign Wars, the "Buddy" Poppy program.  You rarely see her without a splash of red pinned to her jacket.  Her name is almost synonymous with the Flags of Honor project, as she takes great care and pride in preserving the emblem of the land we love.
Violet is also a cancer survivor, and brings others together who have fought that battle through fund raisers and survivor dinners.

If you haven't crossed paths with Violet in the community or at church, you may have met her while she worked at JCPenny's for 30 years!

These are just a few of the outstanding things Violet has contributed to our community.  Now she is contributing to our Matching Campaign on #GIVINGTUESDAY.  She is a true community philanthropist, giving when and where she can.  Let's help her give to the fullest on Giving Tuesday!